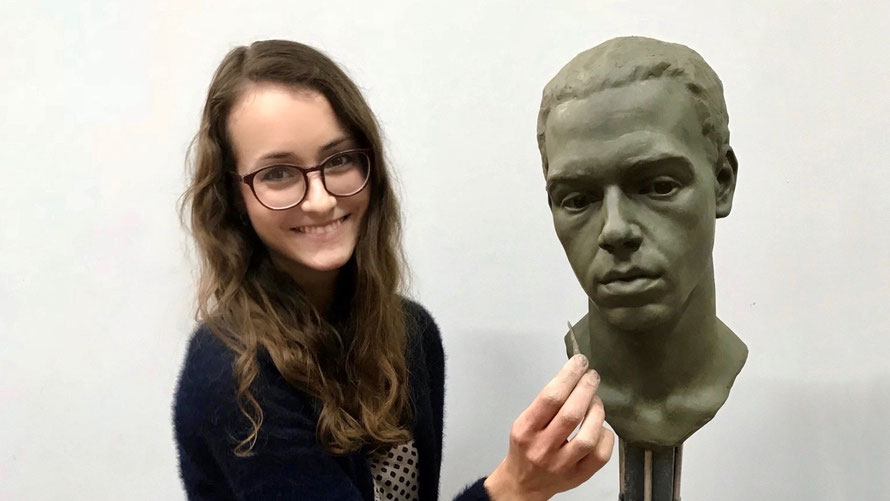 Before the turmoil of the global pandemic I was starting to find paths for achieving one of my biggest goals: sharing my knowledge and experience with aspiring art students through teaching sculpture courses here in Germany. I remember being really excited when Wiesbadener Freie Kunstschule (Wiesbaden Free Art School), responded to my offer of a collaboration. The second week of March I arranged a meeting with the school director Michael Becker. Yet with no requirements for the face masks but an emerging realization of the coming crisis, I hopped on a train from Frankfurt to Wiesbaden.

I remember Mr. Becker greeting me with an elbow bump and giving a tour of his cozy art school. The rooms smelled of oil paints and turpentine. He told me that Wiesbadener Freie Kunstschule (WFK) offers all kinds of art classes including painting, drawing, photography and video art. Sculpture, however, is a great rarity in most local art schools. WFK alike had never previously offered sculpture as a discipline of study. So, both Mr. Becker and I saw an excellent opportunity in implementing sculpture classes into the school program. We decided to start with a one-day introductory workshop to engage and motivate the aspiring students.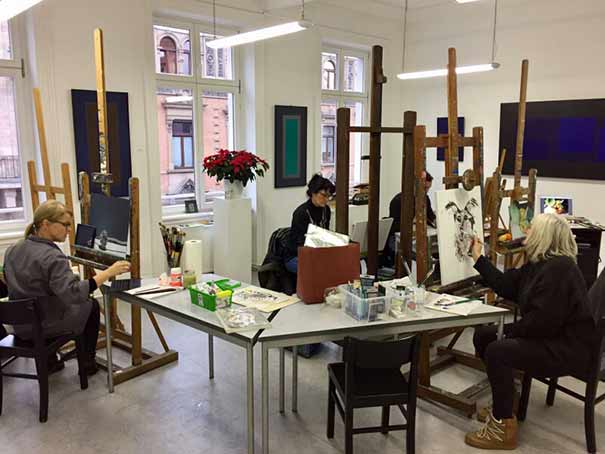 At that point we couldn't predict that the workshop was going to be postponed by several months. Soon enough the novel Coronavirus revealed all its wickedness and Germany, along most other affected countries, found itself under a strict lockdown.
Almost four months later, in early June, Mr. Becker and I finally got in touch again and concluded that the time had come to start the preparations for the workshop. I decided to dedicate it to sculpting a portrait from life. As the arrangements for sculpture stands, clay and portrait armatures were under way, we opened the course for registration. The number of spots was limited to 8 participants and the class planned for July 18th was booked out within the first few days. Therefore, we decided to extend it and host a second group the next day, on July 19th. I was overwhelmed by how many people were eager to participate and thirsty for this new learning experience. 
By the start of this one-day portrait sculpture workshop both groups were almost full. Since the class was planned as an introduction, each group had only four hours to soak in and practice the traditional sculpting technique. The course included a brief lecture, demonstration and the practical exercise of sculpting a portrait from a life model. My primary goal was to spark the interest of the participants and make them want to pursue sculpting on the long run. 
After the completion of the workshop I asked several students to describe their experience and give a brief feedback.
With the permission of the participants, I would like to quote a few of these reviews here. Some of them are written in German language.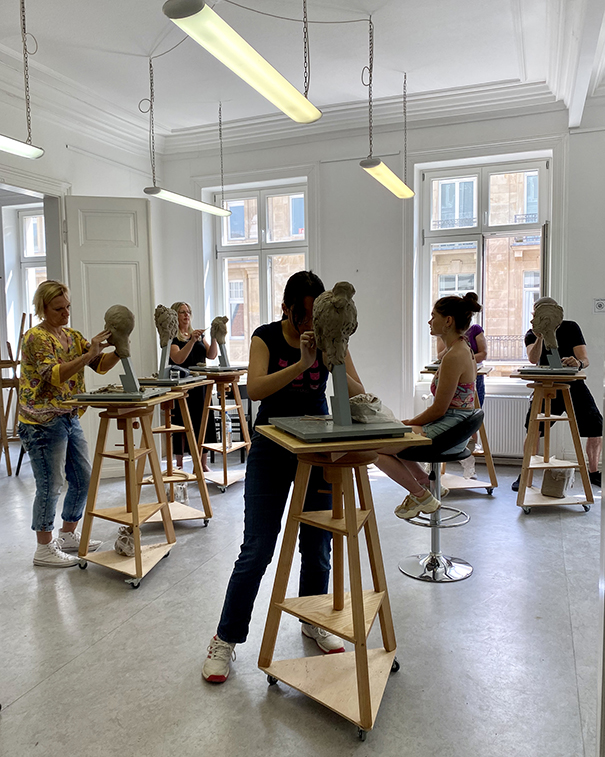 "Alexandra Slava's sculpture workshop at Wiesbadener Freie Kunstschule offers a brief introduction into the traditional sculpturing process of professional artists. The participant understands the steps of the artistic process and is encouraged to try out the basics of sculpturing a portrait of a life model. After a detailed lecture on the necessary approach and Alexandra's demonstration, the participants are invited to create their own artistic heads in clay on specially crafted work stools for this workshop.
In this workshop one clearly comprehends the necessary steps to create a successful portrait. Alexandra introduces the vital tools, information on suitable material, hints for measuring the right proportions, and all this professional information is accompanied by entertaining anecdotes from her experiences at famous art institutes. This makes the time very enjoyable and takes you around Europe and different traditions at the same time.
Given the limited time, only the basics can be covered in this workshop. It calls for a two day or longer course as it makes you keen on learning all the other secrets about creating a portrait sculpture in order to create also the details. Even though the workshop is set up as an introduction into the basics, the participants have the chance to take their results home if they wish to do so.
All an all, this workshop is a great chance to dive into the world of academic sculpture - even just for half a day…
It was really great meeting you and I am looking forward to learning more from you. Even though I had taken classes a long time ago in figurative clay sculpturing, I could feel the clearly structured academic content and benefit from it… Last Sunday I felt at an international art academy for a few hours - Thank you for this!"
(Blanka Slavik, the participant of the Portrait Sculpture Workshop on Sunday, July 19th)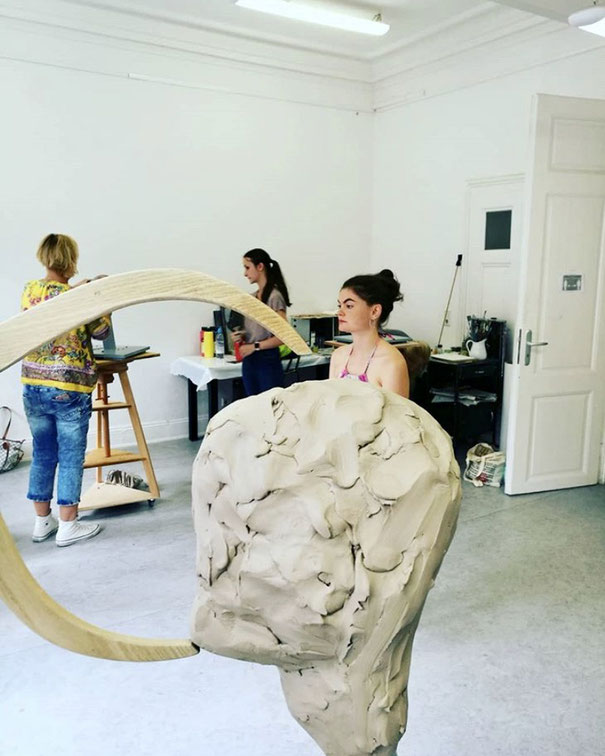 "Der von Ihnen geleitet Skulpturenworkshop hat mir sehr gut gefallen. Ich habe bereits Erfahrungen mit Körperskulpturen und Porträt mit einem Modell,
aber Ihre strukturierte Vorgehensweise vom Ohr aus war mir nicht bekannt. Innerhalb kurzer Zeit sind wir dadurch zu einem ersten guten Ergebnis gekommen.Mein Interesse ist es dann auch länger an einer Skulptur zu arbeiten.
Gerne würde ich an einem regelmäßigen Kurs teilnehmen und meine Kenntnisse in der Körperskulptur und im Porträt weitern. Ich freue mich wieder von Ihnen zu hören und hoffe, dass ein Kurs bald möglich sein wird."
(The participant of the Portrait Sculpture Workshop on Saturday, July 18th)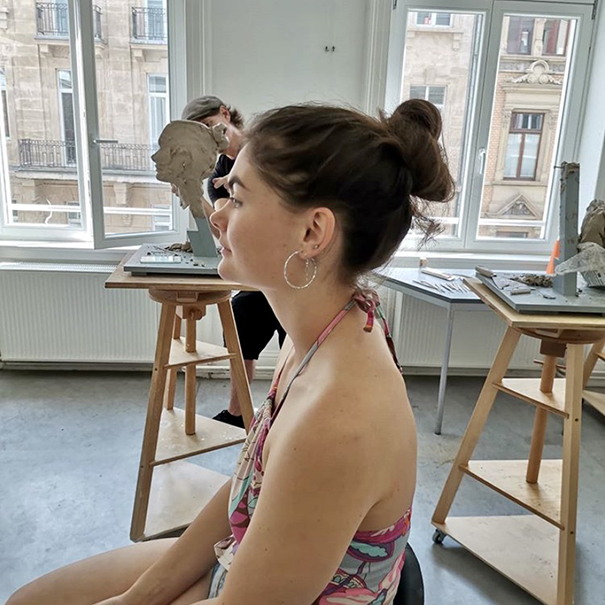 "Nochmals herzlichen Dank für diesen informativen und angenehmen Workshop.
Obwohl es für mich wegen der englischen Sprache etwas anstrengend war, hat es mir viel Spaß gemacht und ich konnte einiges an Erfahrung mitnehmen.
Sie haben den Workshop sehr angenehm und interessant gestaltet und sind zudem eine großartige Künstlerin!
Es ist aber klar, dass man diese Fähigkeit nach ein paar Stunden Workshop -auch wenn gewisse Erfahrungen vorhanden sind- nicht annähernd erlernen kann. Dies würde ein Studium, wie Sie es absolviert haben, voraussetzen.
Ich bin grundsätzlich an weiteren Kursen interessiert… "
(Sigrun Sulk, the participant of the Portrait Sculpture Workshop on Saturday, July 18th)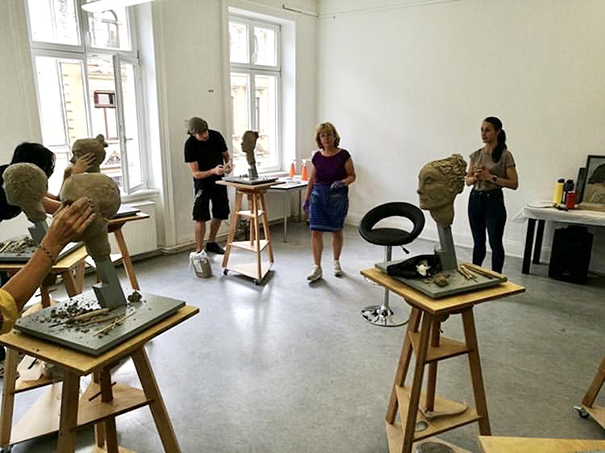 "I enjoyed your course on Sunday. It was very interesting and I could learn a lot about to build a sculpture in this short time. Your theoretic introduction at the beginning was very good, because of the clear structuring and showing . Your corrections helped me to find the right view on contours and lines.       
Some years ago, I visited such a sculpture course at the university in mainz but I didn't get such a good structuring introduce and corrections. 
So, I´m very inspired and will be glad, if you can implement follow courses at the w-f-k."
(The participant of the Portrait Sculpture Workshop on Sunday, July 19th)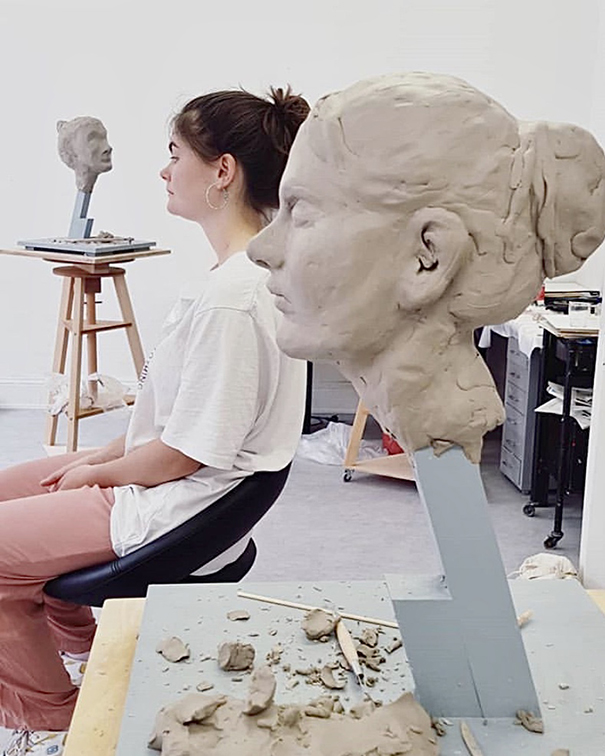 "In this four hour workshop, Alexandra shares a glimpse& the very first letters of the sculptural alphabet which, in my case,
led to the beginning of a rather complex, demanding but very fulfilling conversation between the model& oneself, via the natural medium.
do not expect to take home a masterpiece after three hours, but some very valuable insights from a true master.
highly recommended"
(Florian Stucki, the participant of the Portrait Sculpture Workshop on Saturday, July 18th)
As for me, this workshop has vividly proved the high demand for the traditional sculpture classes. Reading the reviews of the participants, I was reassured that my efforts and enthusiasm for teaching are not in vain. Most students expressed their willingness to further participate in my long-term courses. 
For this reason, Mr. Becker and I immediately started discussing the implementation of a more comprehensive regular sculpture program. I offered a 9-week sculpture course that will start on October 10th and take place once a week on Saturdays. In addition, after its completion students will have the option to participate in the Mold Making Week and keep their sculptures through the processes of molding and casting.
A week ago the course was open for registration. This time the class is limited to maximum 6 participants and most of the spots have been booked within the first few days.
If you'd like to join us, don't hesitate and sign up today! Learn more about this course here. Feel free to contact me for further information.